How to cite this article: Barile-Fabris LA, Pérez-Cristobal M, Merlos-López RJ, Xibillé-Friedman D. [Frailty syndrome in patients with rheumatoid arthritis]. Rev Med Inst Mex Seguro Soc. 2016;54 Suppl 2:S210-5.
REVIEW ARTICLES
Received: November 2nd 2015
Judged: May 2<sup>nd</sup> 2015
Frailty syndrome in patients with rheumatoid arthritis
Leonor A. Barile-Fabris,a Mario Pérez-Cristobal,a Rosa Julia Merlos-López,a Daniel Xibillé-Friedmanb
aDepartamento de Reumatología, Hospital de Especialidades, Centro Médico Nacional Siglo XXI, Instituto Mexicano del Seguro Social, Ciudad de México
bReumatólogo con práctica privada, Cuernavaca, Morelos
México
Communication with: Leonor A. Barile Fabris
Telephone: (55) 5627 6980
Email: barilita@yahoo.com
Background: Rheumatoid arthritis (RA) is a chronic disabling disease, which leads to joint destruction and functional limitations. It diminishes health-related quality of life (HRQoL) and life expectancy. Frailty is a chronic inflammatory process related to aging that causes disability and affects HRQoL. The presence of comorbidity and polypharmacy are both related to RA severity. The aim of this study was to assess the prevalence of frailty and comorbidities in patients with RA.
Methods: Based on the American College of Rheumatology (ACR) criteria, we studied patients with RA that were seen at the outpatient clinic of the Rheumatology Department of a third level hospital. We applied the frailty criteria according to the Cardiovascular Health Study. We registered demographic data along with comorbidities and polypharmacy, using a cross-sectional, observational, and descriptive study design.
Results: Five hundred consecutive RA patients were included, 453 (90.6 %) were female.Mean age was 51.3 years and mean disease duration was 13.2 years; 23.4 % met frailty criteria. Mean number of comorbidities was 1.59, with systemic hypertension and obesity as the most frequent ones (25.2 % and 18.2 %, respectively). Polypharmacy was found in 99.6 % and 69.6 % received more than five drugs simultaneously.
Conclusions: Prevalence of frailty in this study was unexpectedly high and so were comorbidities and multiple drug usage. Clinicians should make an early detection of signs of frailty and comorbidity in RA patients.
Keywords: Frail elderly; Comorbidity; Rheumatoid arthritis; Quality of life; Polypharmacy
---
Rheumatoid arthritis (RA) is a chronic inflammatory disease that causes progressive joint damage. In Mexico it is presented in a range from 0.5 to 1.5 per 100,000 inhabitants,1 and generates considerable economic and social burden on the family and health systems. It produces functional disability and is associated with decreased life expectancy by seven years for men and three for women.2,3
As with all chronic degenerative diseases, concurrent conditions are compounded, which increases proportionally with age; the prevalence of comorbidity is 35.5% in patients between 65 and 79 years of age, and the percentage increases to 70.2% at age 80.4 The presence of comorbidity in patients with RA poses an additional risk for disability and mortality.5
Fragility syndrome (FS) is a complex entity that was formed in the last decade of the last century to refer to the clinical representation of decreased body reserve; it occurs mainly in the elderly and in patients with chronic degenerative diseases. The presence of fragility is a precursor of functional limitations, co-morbidity, and disability associated with the aging process itself.6
FS occurs in 3 to 7% of people between 65 and 75 years, and increases to over 32% in those over 90.7
Fragility is a serious public health problem, since individuals who have it have a much higher risk of falls, fractures, infections, disability, hospitalization, and death, compared with subjects of the same age and gender.8 Fragility and comorbidity are, in all diseases, independent predictors of disability and poor quality of life.8
In RA there is sustained inflammation and multiple concurrent chronic diseases; the disease follows the subject throughout their life and could partner with FS. The association between fragility and RA has not been studied, so we decided to investigate the frequency of fragility syndrome and comorbidities in patients with rheumatoid arthritis.
Methods
With a transversal, observational, and descriptive design, consecutive outpatient patients of the Departamento de Reumatología of the Hospital de Especialidades of the Centro Médico Nacional Siglo XXI were studied from June 1 to December 1, 2009. The patients mentioned had to have a diagnosis of rheumatoid arthritis according to the American College of Rheumatology classification criteria.9 To be included in the study, patients had to be over 18 years and had to be able to take the fragility assessment scale, plus they had to have all the required information in the clinical record. All agreed to participate by giving informed consent. Patients that could not receive a full follow-up through the outpatient department, or who were not able to answer the fragility questionnaire, were excluded. The study did not include patients with other associated rheumatologic diseases, or physical or mental disability unrelated to rheumatoid arthritis.
The Fried et al. criteria10 were used to define fragility, which include:
Involuntary weight loss, consisting of losing at least 4.5 kg weight in the last three months or a BMI < 21 kg/m2.
Low energy or "exhaustion", which is established by two questions and answers: Do any of the following phrases reflect how you felt the last week? "I felt that everything I did was an effort" and "I did not feel like doing anything"; the answers are graded with the following Likert scale: 0 = never or rarely (less than 1 day), 1 = sometimes (1-2 days), 2 = frequently (3-4 days), 3 = always or almost always (5-7 days). Participants who choose Option 2 or 3 in either of these two questions in this criterion were classified as fragile.
Slow mobility: this was qualified considering the cutoff point the lowest fifth of the time in seconds that the patient takes to go 15 steps; adjustment was made by gender and height (

Table I

).

Table I

Criteria to define fragility: criterion 3
Sex
Cutoff point for walking 15 steps
Men
Height < 173 cm
> 7 seconds
Height > 173 cm
> 6 seconds
Women
Height < 159 cm
> 7 seconds
Height > 159 cm
> 6 seconds



Muscle weakness: Muscle strength is assessed by a single question: Do you have difficulty sitting in/getting out of a chair? Participants who answered affirmatively were categorized as fragile.
Low physical activity: participants who performed daily light work or athletic activities at least once a week were qualified as active, those who did not were considered inactive. The latter were considered fragile (men: less than 383 kcal expenditure per week, and women: less than 270 kcal expenditure per week) (

Table II

).
Table II

Physical activities to determine fragility syndrome
Category of activity
Example of activity by category
Approximate energy expenditure
(kcal/kg/15 minutes)
1
Lying: asleep or lying at rest
0.26
2
Sitting: listening to classes, eating, writing, watching TV
0.38
3
Standing or light activity: washing oneself, shaving, brushing hair, cooking
0.57
4
Dressing, bathing, driving a car, or walking slowly
0.70
5
Light manual work: Shoemaker, mechanic, electrician, painter; sweeping, riding a motorcycle, shopping
0.83
6
Light athletic activities: volleyball, baseball, golf, bowling, bicycle
1.20
7
Moderate manual labor: laborer (industry or construction work), carrying, farming, forestry or mining work
1.40
8
Moderate athletic activities: rapid cycling, dance, gymnastics, walking, swimming, aerobics, tennis, jogging
1.50
9
Intense manual labor: cutting down trees, planting or plowing fields
Intense athletic activities: soccer, squash, racing, basketball, boxing
1.95
The diagnosis of fragility syndrome was established if they had three or more criteria per Fried et al.
All comorbid conditions were registered by direct examination and from the information contained in the medical records.
For statistics, measures of central tendency were made with SPSS, version 20.
Results
We studied 500 patients diagnosed with RA; 90.6% (453) were women and 9.4% (47) men. The average age was 51.3 years (21-90). Most of the subjects were between 35 and 65 years old, but at least 62 patients in the total sample were older than 65 (Figure 1). The average time of evolution of RA was 13.2 years (11 months to 54 years). Most patients had a disease duration of 15 years or less, and at least 120 patients were in the first five years of evolution (Figure 2).
Figure 1 Age distribution of study patients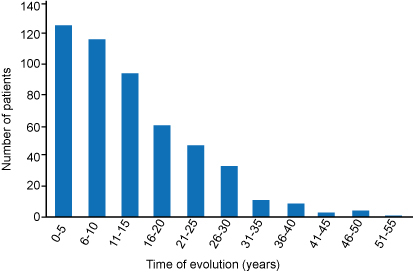 Figure 2 Distribution by time of evolution of rheumatoid arthritis
The prevalence of fragility was 23.4%, and this increased in relation to the time evolution of AR; i.e., the longer the evolution, the higher the prevalence; however, even patients with only five years of evolution had a prevalence of fragility of 11.9% (Figure 3); the same trend was found with respect to age: 11% between 20 and 25 years, 34.3% at 50 years, and 100% after age 90 (Figure 4).
Figure 3 Time of evolution of rheumatoid arthritis and fragility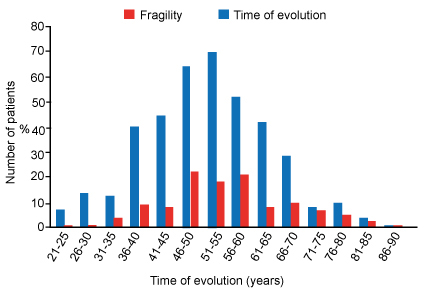 Figure 4 Age and fragility in patients with rheumatoid arthritis
The number of comorbidities per patient was 1.59; the most frequent were: hypertension 25.2%, obesity 18.2%, dyslipidemia 14.4%, peptic acid disease 13.2%, and osteoporosis 9.6% (Figure 5).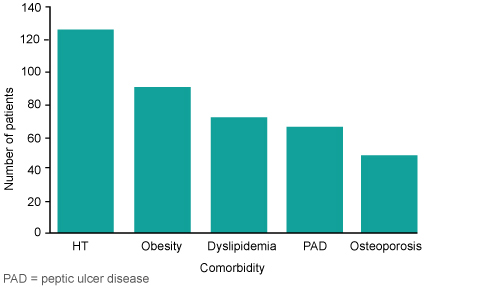 Figure 5 Comorbidity of patients included in the study
Drugs taken by patients were recorded to determine the frequency of polypharmacy (use of 2 or more drugs for at least 240 days a year) and major polypharmacy (more than 5 drugs during the same period).
The average number of drugs consumed regularly by the patient was 5.81 (1 to 14). Polypharmacy frequency was 99.6%, and major polypharmacy was 69.6%.11
Discussion
Fragility is a syndrome that involves increased vulnerability to stress, which is probably due to alterations in the regulation of multiple physiological systems. The biological basis of fragility in the elderly is unknown, but immunological and inflammatory mechanisms leading to changes in various physiological systems appear to be involved; these mechanisms produce anemia, sarcopenia, loss of muscle mass and weight, decreased motor performance, and low physical activity. All this is very similar to what happens in active stages or late stages of RA.6
Because of the parallels between physiological aging and the systemic inflammatory process caused by rheumatoid arthritis, the present study sought to determine whether RA is associated with a higher prevalence of fragility, as qualified by cardiovascular health standards.7
As far as we can determine, this is the first study of its kind in rheumatic diseases.
We found that RA is associated with an unexpectedly high frequency of fragility, which was 23.4% in the population studied. This represents a very high frequency, compared to the 3-7% range reported among people aged 65 to 75,8 or the 3.4% described in 55-year-old men with HIV infection of at least four years of evolution.12 One would expect a frequency over 10% in patients with terminal cancer more than in relatively young patients with an autoimmune disease. This could perhaps be explained by the presence of inflammation for extended periods, which may influence fatigue and wear.
The presence of fragility was directly proportional to the duration of RA, as this was 11.9% with five years of evolution, and increased to 100% at 50 years of evolution. The same trend prevailed in relation to patients' age. This suggests that the presence of sustained systemic inflammation may encourage clinical signs of fragility much more frequently than in healthy subjects, and that, of course, fragility increases in parallel with aging and disease duration, so one should pay attention to signs suggesting this after age 50 or after the first five years of evolution of RA.
As regards comorbidities, the average was 1.59, and the most frequent were hypertension and obesity, followed by dyslipidemia, acid-peptic disease, and osteoporosis. The high prevalence of hypertension is noteworthy, which could be due at least in part to the use of drugs that encourage it, such as NSAIDs and glucocorticoids.
Acid peptic disease had a relatively low prevalence when it came to subjects with polypharmacy; however, only clinical data suggesting this diagnosis were investigated, without performing digestive tract endoscopies.
If we take into account a number of the concurrent diseases such as obesity and dyslipidemia, patients are likely to have metabolic syndrome; however, the absence of diabetes mellitus is noteworthy, as this is a highly prevalent disease in Mexico, and one would expect even more in patients receiving glucocorticoids. Still, we do not have an explanation for this, except perhaps the use of chloroquine in some patients, because the drug may have a beneficial effect on blood sugar.
The presence of comorbidities in patients with a chronic disabling disease, such as RA, can condition a worse prognosis for both function and for survival; this prognosis may worsen further if fragility is added as an element of greater vulnerability.
Conclusions
The results of this study suggest that fragility should be investigated in patients with RA, even in young patients with short disease evolution. Monitoring the activity of RA and thereby limiting the presence of persistent inflammation may decrease the frequency of fragility and wasting syndrome; one of the limitations of this study is precisely that we did not do a correlation with RA activity, so we are currently working on that, by relating the presence of fragility with standardized assessment indices of the activity of rheumatoid arthritis. 
To our knowledge this is the first study to analyze the prevalence of fragility in rheumatoid arthritis.
Acknowledgments
We are grateful to collaborate with Doctors Ramiro Hernández Vásquez, Margarita Portela Hernández, Miguel Ángel Vázquez Zaragoza, and Adolfo Colonel Camargo of the Departamento de Reumatología of the Hospital de Especialidades.
References
Peláez-Ballestas I, Sanin LH, Moreno-Montoya J, Alvarez-Nemegyei J, Burgos-Vargas R, Garza-Elizondo M, et al.; Grupo de Estudio Epidemiológico de Enfermedades Músculo Articulares (GEEMA). Epidemiology of the rheumatic diseases in México. A study of 5 regions based on the COPCORD methodology. J Rheumatol Suppl. 2011 Jan;86:3-8. doi: 10.3899/jrheum.100951.
Mikuls TR, Saag KG. Comorbidity in rheumatoid arthritis. Rheum Dis Clin North Am. 2001 May;27(2):283-303.
Mikuls TR. Co-morbidity in rheumatoid arthritis. Best Pract Res Clin Rheumatol. 2003 Oct;17(5):729-52.
Michaud K, Wolfe F. Comorbidities in rheumatoid arthritis. Best Pract Res Clin Rheumatol. 2007 Oct;21(5):885-906.
Dechant SA, Matteson EL. Managing Comorbidity Risks in Rheumatoid Arthritis. Curr Opin Rheumatol. 2004;16:177-9.
Ahmed N, Mandel R, Fain MJ. Frailty: an emerging geriatric syndrome. Am J Med. 2007 Sep;120(9):748-53.
Slaets JP. Vulnerability in the Elderly: fraility. Med Clin North Am. 2006 Jul;90(4):593-601.
Fried LP, Ferrucci L, Darer J, Williamson JD, Anderson G. Untangling the concepts of disability, frailty and comorbidity: implications for improved targeting and care. J Gerontol A Biol Sci Med Sci. 2004 Mar;59(3):255-63.
Arnett FC, Edworthy SM, Bloch DA, McShane DJ, Fries JF, Cooper NS, et al. The American Rheumatism Association 1987 revised criteria for the classification of rheumatoid arthritis. Arthritis Rheum. 1988 Mar;31(3):315-24.
Walston J, McBurnie MA, Newman A, Tracy RP, Kop WJ, Hirsch CH, et al. Frailty and activation of the inflammation and coagulation systems with and without clinical comorbidities: results from the Cardiovascular Health Study. Arch Intern Med. 2002 Nov 11;162(20):2333-41.
Hayes BD, Klein-Schwartz W, Barrueto F Jr. Polypharmacy and the geriatric patient. Clin Geriatr Med. 2007 May;23(2):371-90, vii.
Desquilbet L, Jacobson LP, Fried LP, Phair JP, Jamieson BD, Holloway M, et al.; Multicenter AIDS Cohort Study. HIV-1 infection is associated with an earlier occurrence of a phenotype related to frailty. J Gerontol A Biol Sci Med Sci. 2007 Nov;62(11):1279-86.
Conflict of interest statement: The authors have completed and submitted the form translated into Spanish for the declaration of potential conflicts of interest of the International Committee of Medical Journal Editors, and none were reported in relation to this article.
Enlaces refback
No hay ningún enlace refback.