How to cite this article: Gaytán-Cortés FC, Arteaga-Adame J, Careaga-Reyna G, Lezama-Urtecho C, Álvarez-Sánchez L. [Primary cardiac hemangioendothelioma: early diagnosis and surgical resection]. Rev Med Inst Mex Seguro Soc. 2016 May-Jun;54(3):392-6.
CLINICIAL CASES
Received: December 31st 2014
Judged: June 2nd 2015
Primary cardiac hemangioendothelioma: early diagnosis and surgical resection
Fernando Celso Gaytán-Cortés,a Juan Arteaga-Adame,a Guillermo Careaga-Reyna,a Carlos Lezama-Urtecho,a Luis Álvarez-Sáncheza
aServicio de Cirugía Cardiotorácica, Hospital General "Dr. Gaudencio González Garza", Centro Médico Nacional "La Raza", Instituto Mexicano del Seguro Social, Ciudad de México, México
Communication with: Fernando Celso Gaytán-Cortés
Telephone: (55) 5583 3646, extensión 23424
Email: rex136@yahoo.com
Background: The term hemangioendothelioma encompasses all tumors that derive from the endothelium of blood vessels. It has an uncertain prognosis, and it is always considered as a low-grade malignancy.
Clinical case: Male, 23, who was admitted to the emergency room with chest pain, intermittent paroxysmal nocturnal dyspnea and malaise. He denied having a history of degenerative diseases, and had a weight loss of 6 kg in two months. Chest X-rays suggested pericardial effusion. Patient presented a tendency to hypotension tamponade, which was solved with subxiphoid puncture, and drain 800 mL of liquid from ancient hematological parameters. He presented a tumor in the right atrium of 8 x 4 cm, attached to the anterior wall of the atrium without involucre of interatrial septum. When patient underwent surgery, it was identified a tumor lesion in the anterior wall of right appendage. It was done the resection of the tumor and of 70 % of the right atrial appendage. The latter was replaced with bovine pericardium. Patient showed good outcome; it was discharged after 10 days of follow-up surgery for six months in the outpatient clinic.
Conclusion: The hemangioendothelioma is a vascular tumor of unpredictable behavior, and whose origin rarely comes from the heart. A timely detection, and a radical surgical resection is, so far, the more acceptable management, given the worldwide little experience for handling this type of tumor. Our experience suggests an aggressive clinical approach and surgical removal within the first hours of the suspected diagnosis for the greatest chance of complete resection and reducing the risk of recurrence.
Keywords: Epithelioid hemangioendothelioma; Heart; Neoplasms
---
The term hemangioendothelioma was first used by Mallory in 1908.1 With this usage he sought to capture all tumors derived from the endothelium of blood vessels.
Since 1965 WHO for its part has classified it as an aggressive tumor, which rarely is associated with metastasis and is characterized by the presence of structures in the form of cellular cords of solid appearance and composed of vascular endothelial arrays. The endothelial-type cells of the structure are of prominent size and globular structure, but, unlike angiosarcoma, do not present malignant data per se.2
One must emphasize that hemangioendotheliomas are considered, by their histological behavior, lesions closer to a neoplastic tissue than to a vascular malformation. As a particular feature, they have large capacities for tissue growth, with multiple nuclear atypia, not to mention their high level of mitotic activity, which explains their great capacity of local recurrence, especially after inadequate surgical resection. 
However, in 1988 Weiss and Enzinger studied and also described these tumors, and in their results considered them vascular tumors of intermediate malignancy. Even due to the difficulty in determining their behavior, they became known as "of uncertain prognosis" (borderline), some are even low-grade.2 Undoubtedly, this behavior should force the doctor to doubt their benignity and always regard them as a low-grade malignancy.
In May 1959 James F. Crenshaw et al. reported "the first primary heart hemangioendothelioma diagnosed via ante-mortem thoracotomy ". This speaks to the difficulty of early diagnosis and their unpredictable behavior.3
In itself, the hemangioendothelioma is a tumor of vascular origin rarely involving the heart, either at the level of pericardium, myocardium, or endocardium, and it is more common to find it as a finding during an autopsy or as a metastatic lesion originating in the liver. In the review of medical literature, less than 20 cases are reported worldwide in a period of 34 years,4 and these have shown a primary source at the heart.
Histologically, most hemangioendotheliomas become classified as cavernous, capillary, or arteriovenous.5 In most case reports of cardiac origin, surgical excision is described as the treatment of choice and, in case of the low-grade variant, complete recovery is most common.6 In our case, the patient had an adequate and relapse-free evolution of after six months of follow-up.
The prognosis of patients with symptomatic lesions who are surgically treated early with adequate free surgical margins is usually very good. Not so in the case of lesions diagnosed as surgical findings or with poor resection margins, where recurrence is usually the rule.
Furthermore, spontaneous regression has been reported for some types of lesions diagnosed as cardiac hemangioendothelioma. Complications of such cases are not common, but it is known that they may include the same as tumors without remission, such as pericardial effusion as hemopericardium, heart failure, syncope, or sudden death.7
Clinical case
Man of 23, who entered the emergency department of our hospital and was evaluated by our service due to intermittent chest pain of moderate to high intensity, paroxysmal nocturnal dyspnea, and general malaise. He reported no chronic degenerative, allergic, transfusion, or recent trauma history; in addition, any history of viral infection in the two weeks prior to admission was ruled out clinically. Physical examination found him hemodynamically stable, with pressure values ​​of 100/60 mmHg, heart rate of 118 beats per minute, respiratory rate of 22 per minute. He presented signs of GII jugular venous distension, rhythmic heart sounds, slightly muffled, without audible murmurs. The presence of paradoxical pulse was discarded. 12-lead ECG was done at rest, with compatible image with electrical alternans, and chest X-ray was taken with GIII cardiomegaly and slight mediastinum widening suggestive of pericardial effusion. The patient had a history of recent weight loss (approximately 6 kg in two months) for no apparent reason. At the time of evaluation he presented a tendency to hypotension and had pressure values ​​of 60/40, with which it was decided to do subxyphoid puncture for drainage and tamponade resolution. Immediate clinical improvement was achieved with blood pressure of 100/60, heart rate of 90 beats per minute, and decreased jugular venous distension.
Due to the characteristics of the pericardial drainage fluid, it was decided to do transthoracic echocardiography, which presented adequate contractility, LVEF of 50%, with no areas of akinesia or dyskinesia, but a tumor was seen in the right atrium, attached to the front wall of the atrium, with dimensions estimated at 8 x 4 cm without interatrial septum involvement.
Tumor markers were also taken, such as carcinoembryonic antigen (CEA), human chorionic gonadotrophin (BhCG), and alpha-fetoprotein (AFP), which were within normal parameters.
Based on the echocardiographic report and the high possibility of recurrence of pericardial effusion of neoplastic origin, it was decided do surgery within 48 hours of the patient's admission for atrial tumor resection.
The procedure was begun under balanced general anesthesia, with approach via median sternotomy, pericardiectomy, and pericardium reference, bicaval cannulation with straight cannulas, and aortic without complication. It was decided to do cardioprotection with intracellular cold crystalloid cardioplegia at 30 mL/kg, with aortic clamping in hypothermia of 28 °C.  
At the time of intra-atrial approach, tumor lesion was identified at the anterior wall of the right atrial appendage; involved tissue was resectioned and up to 70% of the mentioned appendage managed to be removed, which was replaced by placing a bovine pericardium patch with 4-0 polypropylene running suture.
Both the vena cava and the interatrial septum were fully respected. Weaning from cardiopulmonary bypass was achieved on the first attempt, with a total time of cardiopulmonary bypass support of 78 minutes and aortic clamping of 36 minutes. The patient moved to the post-surgical intensive care unit, where he developed satisfactorily with tapering of vasoactive amines and extubation from ventilatory support within the first 24 hours (Figure 1). The specimen obtained had a dimension of 7 x 5 cm (Figure 2).
Figure 1 70% resection of the right atrial appendage is seen, with replacement with bovine pericardium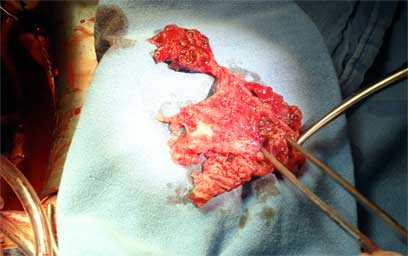 Figure 2 Resectioned surgical specimen measuring 7 x 5 cm, hanging from right atrial appendage
The histopathological test report of the surgical specimen was atypical epithelioid hemangioendothelioma, with the following characteristics: factor VII positive; CD31 positive; CD 34 positive; p53 protein: 15% ++ to +++; Ki-67: 30% (Figure 3).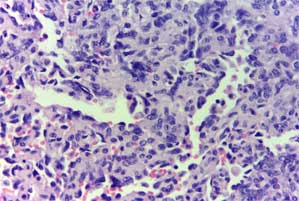 Figure 3 Vascular channels with endothelial lining, positive for CD 31, CD 34, and factor VIII
During his stay in the postoperative intensive care unit, the patient evolved favorably, with 200 mL output through mediastinal drainage and adequate hemodynamic stability, with a blood pressure of 100/70 on average, so he was able to leave postsurgical therapy and enter the inpatient area of ​​our department, where the drains were removed and he began ambulation; he was discharged 10 days after the tumor resection. The patient has been followed in outpatient for six months without reporting recurrence or associated complications.
Discussion
Hemangioendothelioma is a vascular tumor of unpredictable oncological behavior that rarely originates in the heart. It has been almost 56 years since the aforementioned Crewnshaw published his report of a case of primary cardiac hemangioendothelioma, where he established the low incidence of this entity and the unlikelihood of diagnosis in patients who survived the surgical procedure performed early; however, little has changed since then.
Overall, primary cardiac tumors have a frequency in autopsy of only 0.001 to 0.03%.5 Despite this, early detection remains a priority, because early and accurate diagnosis can be curative. However, the associated symptoms are non-specific and undoubtedly relate to different but serious mechanical complications. In our case, it was of radical importance to obtain drainage of pericardial fluid of hematological parameters in an emergency procedure, which led to the suspicion of an oncological source of the effusion, and to obtain the echocardiographic tests that gave the image suggestive of atrial tumor. Echocardiography is the initial diagnostic modality because it is simple, noninvasive, widely available, and inexpensive. It can also delineate the morphological look, the location, and the movement of cardiac tumors.
On the other hand, if myxomas are excluded, primary benign cardiac tumors are even less frequent in adults. The main known group of these lesions is papillary fibroelastomas, lipomas, and hemangiomas.8
In turn, within cardiac tumors, hemangiomas or hemangioendotheliomas represent only 1 to 2% of all tumors classified as benign heart neoplasms.5 Burke and Virmani9 in their study found fewer than 75 cases of this type after conducting an extensive literature review. For this reason the confirmation and publication of this case is always necessary to contribute to some extent to the better understanding and management of this rare entity.
Regarding the natural history of cardiac hemangioendotheliomas, it is difficult to determine their prognosis, as they often are asymptomatic.10 They can occur in any age group, while clinical presentation is variable and depends on the location and size of the tumor.11 The optimum treatment is not well defined or standardized, given the variable nature of the presentation and the low frequency of cases reported in the literature, but early surgical resolution is so far the most accepted therapeutic approach in case of diagnosis of this rare cardiac tumor.12 Cases have been documented in which radiation or chemotherapy resulted only in palliation, while the prognosis is relatively good if the tumor is completely resected initially.13 Therefore, and because of its malignant potential, a longer and closer than usual follow-up period is always necessary and advisable.
It should also be emphasized that the signs and symptoms that patients present are often determined by the location of the tumor and not necessarily by the histologic type to which the entity belongs. For example, there are histologically benign cardiac tumors with local involvement and invasion, but with sufficient growth to impair myocardial contractility or cause valvular dysfunction, which may clinically translate into signs of heart failure, pulmonary embolism, or any impairment of the conduction system, which can even lead to fatal arrhythmias or pericardial effusion with or without tamponade, as presented acutely in the patient, which warranted the puncture evacuation procedure. 
Finally, the histological behavior of this tumor is and remains uncertain; it is sometimes reported with an intermediate degree of malignancy, as it may cause metastases and even present postoperative recurrences. That is why, due to its malignant potential, radical resection is recommended with surgical margin ≥ 1 cm with a suspicious intraoperative histopathological report; this is in order to reduce the aforementioned metastasis, as was done in our case, in which we even managed atrial repair using bovine pericardium.
In contrast, another more common appearance of this entity is not as a primary tumor at the cardiac level but as a metastatic lesion with primary focus at the liver, lung, lymph nodes, or spleen.14 However, both presentations, both primary and metastatic, originate in the subendocardium and can occur anywhere in the heart.15 The right atrium is the most common place at this level, and hemorrhagic pericardial effusion is the most common initial symptom.16
In the evolution of knowledge of this entity, it is known that it was initially classified as a vascular neoplasm of low aggressiveness, but recently, the appearance of systemic metastasis in up to 21% of reported cases, and its high mortality, have led to the conclusion that it should be considered a fully malignant tumor, rather than a borderline tumor.6,17
With regard to the resources available for histopathological diagnosis, there is immunohistochemistry, since the hemangioendothelioma usually reacts with at least one endothelial marker such as CD 31, CD 34, factor VIII; while for specificity, it is always negative for cytokeratin.7,18
CD 31 is considered a highly sensitive marker and is thought to be the most reliable agent of endothelial differentiation.
Tumors such as sarcomas and carcinomas show an opposite immunohistochemical pattern in which the expression of vascular endothelial markers rules out metastatic adenocarcinoma or melanoma. In our case, the histopathological report was of atypical epithelioid hemangioendothelioma, with immunohistochemical markers such as factor VII, CD 31, and CD 34, all positive.
Conclusions
Hemangioendothelioma is a tumor of vascular origin that rarely involves cardiac tissue or originates there. In reviewing medical literature, less than 20 cases are reported worldwide over a period of 34 years, in which it is not proven as a primary heart tumor and even fewer in which extraction is achieved in a patient ante mortem. Echocardiography, computerized tomography, and magnetic resonance imaging are useful for diagnosis, but this can only be 100% confirmed histologically, in which the CD31 marker is emerging as one of the most specific. With regard to clinical evolution and prognosis, even if the histological grade is low (with apparent infiltrative aggressiveness), it very often acts as a malignant tumor by the mechanical, hemodynamic, and electrophysiological complications that it can generate. For this reason timely detection and radical surgical resection with adequate free margins is, so far, the best mode of management given the little global experience we have in handling this type of tumor. Our experience suggests an aggressive clinical approach and surgical removal within the first hours of suspected diagnosis for the greatest chance of complete resection and reducing the risk of recurrence. 
References
Weiss SW, Goldblum JR, eds. Enzinger and Weiss's Soft Tissue Tumors. 4th ed. Philadelphia, Pa: Mosby; 2001. p. 1391.
Organización Mundial de la Salud (OMS). Manual de la clasificación estadística internacional de enfermedades, traumatismos y causas de defunción. Basada en las recomendaciones de la Octava Conferencia de Revisión, 1965 y adoptada por la Decimonovena Asamblea Mundial de la Salud. Volumen 1. Geneva: OMS; 1968.
Crenshaw JF, Dowling EA, Cresswell Jr WF. Primary hemangio-endothelioma of the heart. Ann Intern Med. 1959;50(5):1289-98.
Abad C, Campo E, Estruch R, Condom E, Barriuso C, Tassies D, et al. Cardiac hemangioma with papillary endothelial hyperplasia: report of a resected case and review of the literature. Ann Thorac Surg. 1990;49:305-8.
Bruce CJ. Cardiac tumours: diagnosis and management. Heart. 2011;97:151-60.
Traverse JH, Lesser JR, Flygenring BP, Bracken TH, Olevsky OM, Nicoloff DM, et al. Epithelioid Hemangioendothelioma of the Thoracic Aorta Resulting in Aortic Obstruction and Congestive Heart Failure. Circulation. 1999;100:564-5.
Safirstein J, Aksenov S, Smith F. Cardiac Epithelioid Hemangioendothelioma with 8-Year Follow up. Cardiovascular Pathology. 2007;16(3)183-6.
Abad C, de Varona S, Limeres MA, Morales J, Marrero J. Resection of a Left Atrial Hemangioma. Report of a Case and Overview of the Literature on Resected Cardiac Hemangiomas. Tex Heart Inst J. 2008;35(1):69-72.
Sugimoto T, Yamamoto K, Yoshii S. A Primary Epithelioid Hemangioendothelioma of the Right Atrium: Report of a Case and Literature Review. Open Journal of Thoracic Surgery. 2013;3:63-7.
Basso C, Rizzo S, Valente M, Thiene G. Prevalence and pathology of primary cardiac tumors. Cardiovascular Medicine. 2012;15(1):18-29.
Stiller B, Hetzer R, Meyer R, Dittrich S, Pees C, Meskishvili VA. Primary cardiac tumours: when is surgery necessary? European Journal of Cardio-thoracic Surgery. 2001;20:1002-6.
Botha J, Ihlberg L, Elhenawy A, Abbott M, Butany J, Paul N, et al. A Giant Cavernous Hemangioma of the Heart. Ann Thorac Surg. 2010;90:293-5.
Kitamura H, Okabayashi H, Hanyu M, Soga Y, Nomoto T, Johno H, et al. Successful enucleation of a giant cardiac hemangioendothelioma showing an unusual proliferation pattern. J Thorac Cardiovasc Surg 2005;130(4):1199-201.
Milan L, Beierlein W, Müller H, Bültmann B, Ziemer G. Left atrial epithelioid hemangioendothelioma. J Thorac Cardiovasc Surg. 2007;133:803-4.
Messias P, Bernardo J, Antunes M. Primary left atrial haemangioendothelioma. Interac Cardiovasc Thorac Surg. 2008;7(5):945-6.
Tansel T, Aydogan U, Yilmazbayhan D, Bilgic B, Demiryiont M, Onursal E. Epitheloid Hemangioendothelioma of the Heart in Infancy. Ann Thorac Surg. 2005;79:1402-5.
Kahlout M, Al-Mulla A, Chaikhouni A, Al-Bozom I. Unusual presentation of a rare tumor: Cardiac epithelioid hemangioepithelioma presenting as cardiac tamponade. Heart. 2009;10(3):132-5.
Moulai N, Chavanon O, Guillou L. Atypical Primary Epithelioid Hemangioendothelioma of the Heart. J Thorac Oncol. 2006;1: 188-9.
Conflict of interest statement: The authors have completed and submitted the form translated into Spanish for the declaration of potential conflicts of interest of the International Committee of Medical Journal Editors, and none were reported in relation to this article.
Enlaces refback
No hay ningún enlace refback.